It'll Be Spring on Wednesday is a tragic-comedy about love, collaboration and appreciating each other. The piece will premiere on October 22nd at the Operetta, retro-style.
Szabolcs Fényes's It'll Be Spring on Wednesday (written collectively with Péter Bacsó and György G. Dénes), is directed by Szilárd Somogyi, who happens to be the same age as Miklós Kerényi Gábor (a.k.a. KERO®) was when the piece was first premiered in 1983.  Barbara Ari-Nagy and György Gém adapted it for the contemporary stage, the dramaturgist is Miklós Kerényi Gábor, the original music re-scored by Zoltán Bókai. The interesting element to this revival is that Fényes - the last great Hungarian Operetta writer - resigned from his post as the Operett Theatre's director exactly 50 years ago and in just over a year, in April of 2012, it will be his 100th anniversary. Revisions helped dust off the piece, several small changes were made to the story and the play has been set in the late 80's, just before the fall of the old regime.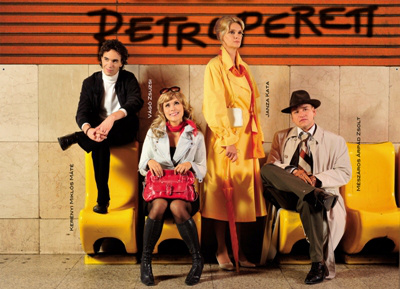 Szerdán tavasz lesz
"It'll Be Spring on Wednesday is a little different from the usual pieces; it's a little bit musical, a little bit prose, but very much operetta," reveals Szilárd Somogyi, the director of the piece (who also directed Abigel and Beautiful Summer's Day). It's thanks to this that outstanding representatives from the Budapest Operetta Theatre musical and operetta division are playing in many of the leading roles. Árpád Zsolt Mészáros is playing the role of Little Flórián and Kata Janza is his great love interest, the dentist. The young dance-comic and soubrette duo Lajos "Monti" Monostori and Beáta Kuncz folkster are played by Miklós Máté Kerényi and Zsuzsi Vágó. The Dutchess Katinka, retiree Béla Simon, a former steel branch manager are played alternately by Zsuzsa Lehoczky, Marika Oszvald and András Faragó.
The hero of our story is Little Flórián, a fallen intellectual who moves to the capital from the countryside. He teaches Hungarian history but can't make ends meet, can't start a family on his salary. One day he decides he's had enough, he resolves to change his life: he posts an ad in the paper under the pseudonym Fantasy. He receives several hundred replies from women hoping he's rich, although his only wealth is his creativity. Fate brings him together with Monti (played by Zsolt Monostori), a bohemian guy who can get or take care of anything.  Together they establish the Lonely Heart's Club. At their Wednesday meetings - for a small fee - people can vent their frustrations, talk about their problems, misunderstandings, about their every day headaches. One of the club memebers is a dentist, a folkster, an overweight football player, a former dutchess and a retired factory manager. Little Flóián could never guess that by forming this club he gets thrown into a generation defiant, unselfconscious avalanche of happiness while his own life and emotions become more tumultuous...
Szerdán tavasz lesz (It'll Be Spring on Wednesday)
October 22, 2010
Budapest Operetta Theatre