Fogas House is featuring a new series of performances, among which two well-known jazz musicians will be premiering their new bands.
József Horváth Barcza established a band primarily to feature his original compositions, which he will be introducing to audiences at the venue. The classically trained double bass player has provided stable, reliably high quality playing to Hungarian jazz; he has worked with musicians such as Gábor Gadó, Elemér Balázs, Ferenc Snétberger, Kálmán Oláh, singer Nikoletta Szőke's band, who is his new band's founding member as well as József's wife.  He has collaborated on more than 20 albums and has performed with the likes of Eric Truffaz, Tony Lakatos, Rick Margitza, Frank London and Palle Mikkelborg.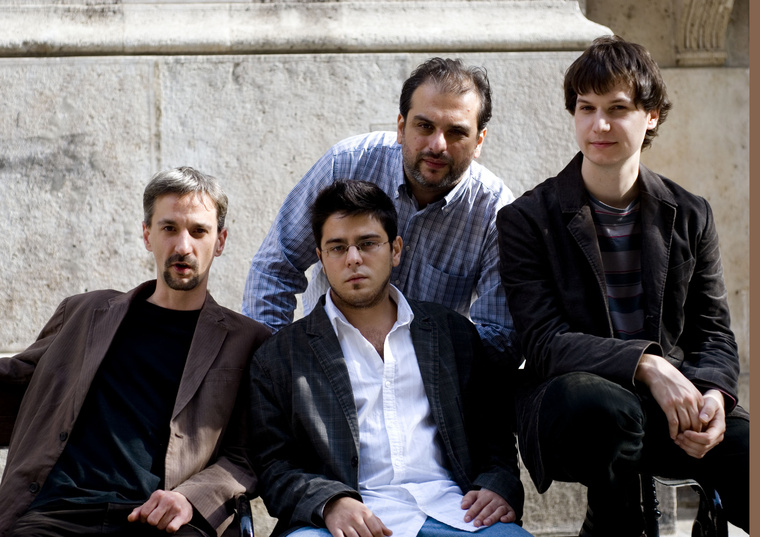 Barcza Congressio
One of his soloists is 24 year-old Márton Fenyvesi, a student at the Music Academy's Jazz division. He has been studying in Amsterdam on an Erasmus scholarship since last year, where he formed his own band. His outstanding talent is recognized by numerous band leaders such as Kornél Fekete-Kovács, János Nagy and Dániel Váczi. Another blossoming talent is soloist Gábor Bolla tenor saxophonist, another student from the Academy.  Bolla started performing and acquiring international recognition at an early age in competitions and on-tour. He is a regular performer at the biggest Hungarian festivals and at Jazz events.
The final member of this quartet is drummer András Mohay, who is probably one of the most favored and sought-after performers for his mainstream style. He will also appear with trombonist Ferenc Schreck and double-bass player Győrgy Orbán in a trio featuring originals and standards, sometime in November.  Ferenc Schreck plays in Kálmán Oláh's Sextet and is also the artistic director of the Jazz Orchestra and is known for his his bass trombone sound and unique style of playing.
The concert series, entitled JazzTag, fits perfectly with the concept of passing on the stage at Fogas House.
There will be a very rare performance, but by no means a premier, by Avéd-Csongradi Quartet during JazzTag since one of its founding members is also engaged in further studies in the Netherlands. Csongrádi received his master's degree in guitar from the Conservatorium van Amsterdam and graduated with honors in saxaphone from the Hungarian Music Academy. He and János Ávéd began playing together during their Dezső Lakatos Ablakos scholarship years and formed their band in 2007 to play original music. The energetic rhythms section is formed by Ákos Benkó and Márton Soós. They are all leading members of Jazz formations (such as Modern Art Orchestra, Nikoletta Szőke Ensemble, Elemér Balázs Sextet, Dániel Szabó Trio, Kálmán Oláh, Gábor Gadó, the Grencsó Collective). As a member of Transform Quintet, Ávéd performed with Joey Calderazzo on numerous occasions. 
Usually held every two weeks on Thursday evenings, JazzTag will also feature Budapest's Klez-Jazz group, the Nigun Trio.
The second premiere will take place in early December, introducing pianist Dániel Szabó's new quintet, featuring Kristóf Bacsó, Balázs Kántor, Mátyás Szanday and András Dés.
JazzTag performances of 2010 (at Fogasház):
№. 7. October 14.: Ávéd-Csongrádi Quartet
№. 8. October 28.: Barcza Congressio (Premier)
№. 9. November 11.: Nigun Trio
№. 10.  November 24.: Schreck Trio
№. 11.  December 9.: Szabó Dániel Quintet (Premier)
№. 12.  December 30.: Fröcccs3
info@fogashaz.hu
Budapest VII. Akácfa utca 51.
http://blog.fogashaz.hu