West Balkan, which opened in the Skála Metró building in the spring, will be the new location of the city's theatre as of the fall. Their October program seems promising.
The West Balkan team made a decision together with its threatre troupe to move ahead with their 2010 February advertised threatrical program despite financial problems that have arisen at the NKA (National Cultural Fund). Since the WB theatre couldn't qualify for an operational grant, they were banking on sources such as the NKA, NEFMI (National Resource Ministry) and other production grants offered by the city.  With these resources missing, there will be much less from which to economize but the WB team is planning to bring in private funding for the realization of this program. Accoring to their plans, there will be a new repertoire created specifically for the theatre as well as welcoming a few performances (new and known/popular) from alternative theatrical circles.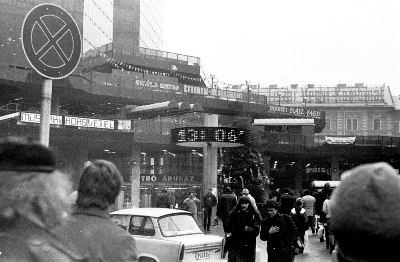 Skála Metró áruház
The fall program launches October 13th and is entitled, Illusion is Key - Music-Dance Skála-Reality in One Part, backed by the Budapest Fall Festival.  The performances are scored by six directors, three of whom are students at the Theatre and Film University. Each director chooses their own performers and with them create an independent 10-15 minute scene about Skála Metró on the building's 3rd and 4th floors in various locations. The rest of the building will host creative art exhibits which capture the spirit of the Skála Metró and Skála Kópé phenomenon of the 80's. There will also be an 80's-themed runway fashion show organized by the texitle graduates of MOME (University of Art and Design Budapest).
On October 21, HOPPart Troupe is launching their new piece entitled I'm Coming For You - The Beginning, an "opera" directed by Zsolt Máthé which processes the primary situations and characters from "Friends" and "Dr. House."
At the end of October, KoMa Troupe will be performing one of their most successful productions, Plasma, by László Garaczi.
Each month, students from the Theatre and Film University will give performances in their respective fields. The first to be introduced is Gábor Maté's quarter-year acting class who will be performing old movie soundtrack hits led by Gizella Bagó.
October 26th will see the launch of ReadingPot, a reading theatre series also in collaboration with the Theatre and Film University. The monthly series consists of thematic programs, the first of which is education and teaching - entitled School Beyond All Borders - featuring actors such as Eszter Csákányi, Andrea Petrik, Csaba Debreczeni and Eszter Kiss.
Other things to look foward to are performances by Forte Troupe and theatrical adaptations of István Tasnádi and Ráka Pelsőczy by the authors.