dunaPart - A platform for contemporary Hungarian performing arts
Hungary's two devoted initiators of international artistic collaboration, Trafó – House of Contemporary Arts and Workshop Foundation organise the second edition of the platform for contemporary Hungarian performing arts entitled dunaPart, to be held 20-22 January 2011 in Budapest.
The platform's main objective is to present performing arts professionals - managers, programmers, curators, theatre and (performing arts) festival directors - visiting Hungary for these 3 days with outstanding examples of the independent Hungarian performing arts scene. The programme will consist of eight theatre and ten dance performances. Visiting theatre and dance professionals and ex-pats who live in Hungary will have a great opportunity to see performances in their original settings with English surtitles. The dynamic programme, over a long weekend, will give everyone - whether they live in Budapest or in the provinces - a good chance to see what they have previously missed.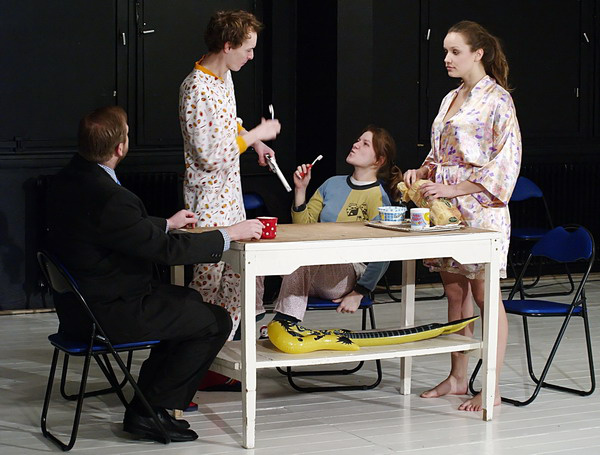 A kockavető (Szputnyik - fotó: SzoFi)
These performances, along with professional events and discussions, will make up a three-day programme centred on four venues (Merlin Theatre, MU Theatre, Szkéné and Trafó House of Contemporary Arts). These are close together, which will leave guests ample time to meet and talk to colleagues and performers.
DunaPart will present a selection of the best work of recent years. The organisers would like to help performers to become part of the international community and to initiate international networking. The platform offers visitors and cultural experts a unique opportunity to gain a favourable awareness of the Hungarian performing arts scene and to find partners with whom they will find it worthwhile and easy to co-operate.  
Theatre and dance will receive equal emphasis in the programme. In addition to performers who have already received international recognition, we would like to introduce significant creative artists from the Hungarian fringe. A board of theatre experts and critics has helped us in the selection process.  The programme will include a new, even more dynamic and dance-focused piece by Pál FRENÁK (co-produced by, among others, Pécs Cultural Capital 2010), last season's outstanding success by Sputnik Shipping Company (Viktor BODÓ), the frenzied vaudeville The Dice Man, the most recent by the internationally renowned Béla PINTÉR and Kornél MUNDRUCZÓ and other outstanding work by Bloom!, Ferenc FEHÉR, Company Krisztián GERGYE, HODWORKS (Adrienn HÓD), TranzDanz (Gerzson Péter KOVÁCS), Márta LADJÁNSZKI and the young company KoMa teamed with ALKA.T.

k.Rush - Frenák Pál Társulat
The official programme will be accompanied by Off events, meetings for performing arts professionals and informal talks.
The organisers' further purpose is to demonstrate and bring to the attention of executives that independent, creative theatre and dance companies outside the established theatre framework are an organic part of Hungarian and international artistic life, a section of our culture which must be supported and not allowed to die of neglect.