New year at the Hungarian State Opera
Two premières and numerous successful productions are on the repertoire. The choice includes light and dramatic operas as well as dance compositions by the Hungarian National Ballet.
Verdi's historical opera, I vespri siciliani is on stage again from January. The world première of I vespri siciliani was held at the Paris Opera in 1855, and the National Theatre of Pest it opened only a year later. The Hungarian audiences warmly welcomed the opera, not only because of "Verdi's glittering music" as contemporary reviewers enthused, but because during the years after the defeated Hungarian War of Independence of 1848/1849 everybody was more sensitive to historical conflicts between oppressors and the oppressed. This version of the opera premièred at the Hungarian Opera House in 2009 staged by German director Matthias von Stegmann.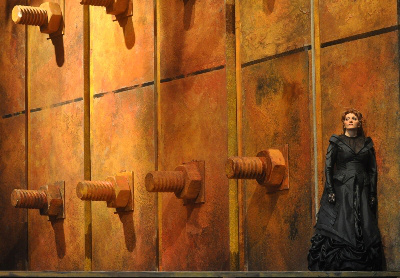 A szicíliai vecsenye
Audiences can enjoy Mozart's popular comic opera, Così fan tutte featuring two young artists from 21 January. Guglielmo's role will be sung by Zsolt Haja, a singer in his mid-20s, who won second prize at the Armel Opera Competition last year, and Viktória Mester will appear as Dorabella after singing several main roles with great success.
His diary and correspondence reveal that Tchaikovsky became overwhelmed by emotions in the world of passion in Pikovaja dama (The Queen of Spades) while he was composing it. He shed tears when putting down Lisa's arioso in Act III, and cried when composing Hermann's farewell aria. The opera has not been performed in Budapest since 2007. From 28 January, this exciting piece is to be staged in an almost entirely new cast under the baton of György Győriványi Ráth, the musical director of the Hungarian State Opera. From 5 February Hermann's role will be sung by Badri Maisuradze, principal dramatic tenor at the Moscow Bolshoi Theatre.
Die Meistersinger von Nürnberg will be performed on 6, 9 and 12 February. The production is directed by Attila Vidnyánszky and conducted by Ádám Medveczky. Béla Perencz, István Berczelly, Péter Kálmán, András Molnár and Mónika González will sing the main roles.
Those who missed the first première of this season at the Opera House can enjoy Boito's opera Mefistofele in February. The impressive set design is the work of Csaba Antal. The production is directed by Balázs Kovalik and conducted by János Kovács.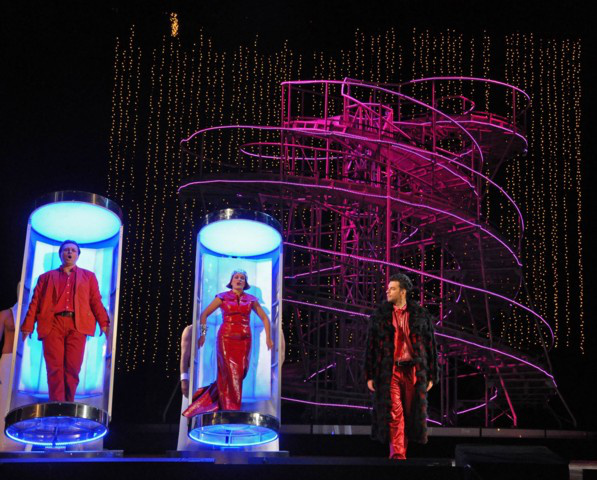 Fekete Attila, Létay Kiss Gabriella, Bretz Gábor - Mefistofele - Magyar Állami Operaház
The première of Gyula Fekete's Excelsior! Franz Liszt Going to Heaven - half-serious opera in one act is a co-production of Hungarian State Opera, the Thália Theatre and the Budapest Spring Festival. The director and the set designer of the opera is Péter Gothár, the shows will be conducted by Gergely Kesselyák.
Giuseppe Verdi's Macbeth directed by Miklós Szinetár and conducted by György Győriványi Ráth opens on 22 March. The title role will be sung by Alexandru Agache; Gyöngyi Lukács will appear as the Lady and Péter Fried as Banquo.
World-famous baritone Juan Pons and Alessandro Codeluppi will join Erika Miklósa on stage on 19 and 26 March. The performances conducted by Balázs Kocsár will be the events of the Budapest Spring Festival. The preceding performances of Donizetti's opera will be conducted by Henrik Nánási; on 1 March István Horváth will debut in Ernesto's role with Levente Molnár, Zita Váradi and József Mukk in the other leading roles.
A series of six performances of Onegin, one of the most beautiful of Tchaikovsky's operas is to begin on 24 March. The title role will be sung by Levente Molnár, a young Hungarian baritone who returns home after international success. Attila Fekete, Tünde Frankó and Erika Gál will join him in the other main roles. The opera is staged by Balázs Kovalik, the conductor of the shows will be János Kovács.
Ballet lovers can enjoy Slava Muchamedov's spectacular La Bayadère and Boris Eifman's epic The Karamazovs, as well as a recent premiere, La fille mal gardée.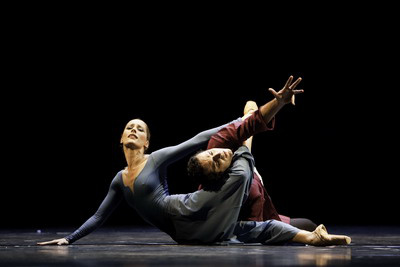 Karamazov testvérek - Popova Aleszja, Bajári Levente
The Budapest Philharmonic Orchestra gives five concerts at the Opera House in the first quarter of 2011. On 24 and 25 January Mozart's Symphony in G minor and Mahler's Das Lied von der Erde will be performed at the Opera House. The programme for 21 and 22 February: Rosamunde incidental music by Schubert, Der Rosenkavalier - waltz by R. Strauss, and Ravel's Bolero, plus a Carnival surprise. The concert featuring the National Choir is conducted by János Kovács.