k.Rush vol 2 - Company Pal Frenak
Pál Frenák's new work, k.Rush - road moving, combines the dynamics of the rush with the dramatic moment of collision.
"It is we, who became unnoticed outlaws in this still journey. Nothing can happen anymore, nothing could happen either for, or against me. My spaces are unbounded, not because they are imagined, on the contrary: because I'm just walking them right now." (Deleuze-Guattari)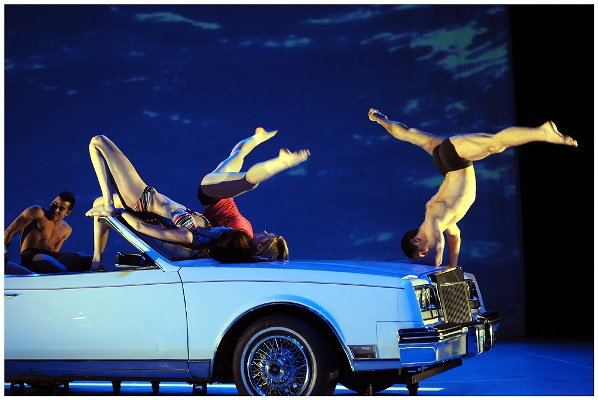 k.Rush - Frenák Pál Társulat
The starting point of k.Rush is the intention to create a sort of film-choreography through a century of movie-making. The seventh art was always close to Pal Frenak, its influence is observed in his previous works too (Festen, InTimE, The Hidden Men), meanwhile k.Rush focuses consciously on the amalgame of cinematography and contemporary dance. Continuing what he has started in previous works in this piece he strongly builds on the world of film. Inspired by the world of movies. The thin line between dream and reality is blurred, a visionary road-movie is set on stage.
The explosive energy of the dancers reflects the constant moving on the road and the dynamism of the eternal change. The ear-blowing tempo, the bold association of the sequences respond to the wacky future and the erratic character of the road-movie as genre.
As usual Frenak created a cleared-out space on stage. Here, the infinite road is only split by the symbol of travel - a white Cadillac. The strong visual background is born from a collaboration with video-artist Philippe Martini, while the electro-acoustic compositions with pop elements popped in, are delivered by Gilles Gauvin, whom you might remember from previous Frenak-pieces such as InTimE and Seven.