20/20 - dramAcum, Yorick Studio Theatre
We could quite simply call it a historical event in the recent history of Hungarian and Romanian theatre and cultural communication.
Ten actors, under the direction of young Romanian theatre director and playwright Gianina Carbunariu, undertook a unique project: a part-fiction, part-documentary play about the dramatic events of March 1990 in Targu-Mures, Romania. Typical of Hungarian-Romanian ethnic conflict, this issue has not been adequately addressed, neither by the "parties" involved, nor by the theatre community at large. Nevertheless, the open conflict in this bilingual city in Romania was a traumatic event. In spite of some official media and political discourse, there has been no whisper of public debate, only personal memory.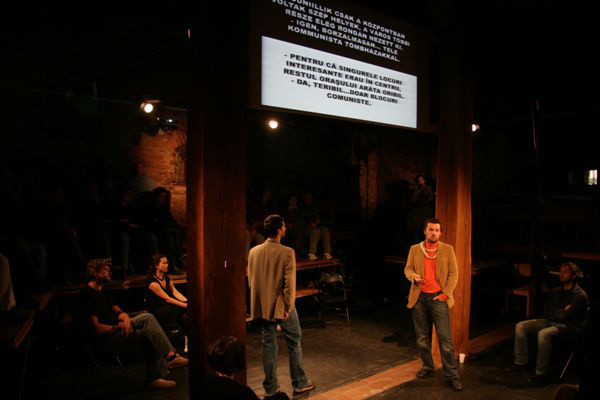 20/20
Carbunariu, the director, brought five young actors from the Romanian capital and found five young Hungarian actors at the independent Yorick Studio Theatre. The title 20/20 refers to 20 years "after" 20 March 1990. Based on documentary research and interviews, the simple, well-conceived, and modestly designed show is a bilingual production that is subtitled when needed. It is not an investigation into the "truth" of the ethnic conflict, since there is no one truth, but as many truths as there are speakers, citizens and politicians. Personal stories of the actors and memories of the citizens of Tirgu-Mures are presented equally and credited as authentic. Humor, expressions of violent nationalism and prejudice, communication gaps, alienation, and amusing theatrical situations make the show a finely balanced, intelligent, and intense experience which addresses local and more universal issues at the same time. While the performance is somewhat longer than I would like, audience members leave the space having faced their own prejudices. They also experience a feeling of relief that a taboo has been destroyed and a silence has been broken. - Tompa Andrea
Hungarian Theatre Critics' Association