The new BOLLWERKproduction in corporation with MU Terminal.
A witty, critical satire on what "really is". An essay of our needs, drifts, instincts and passions, which makes us think and believe that we know what is true and that what we experience is the reality.
"We see press photos, captured real-life images of today, and the opposite: composed photography. Photos with even the smallest detail set and directed. Photos of a fantasy world, pictures that deform and manipulate reality. Departing from press snapshots on one hand, and art photography on the other, tableaux vivants emerge on stage, begin to move, and bit by bit reveal their stories. Dark or stirring visions of the future, naive present, nostalgic past, alarming realities, timeless statements, pure facts and fantasy come to life. Then we return to the newspapers of this morning. A trip through probability and certainty, a spectacle of realities. We aim to show that the visual culture which we live in and which appears comprehensible to us, real and true, is always accompanied by biased interpretation and perception on one side and manipulation on the other."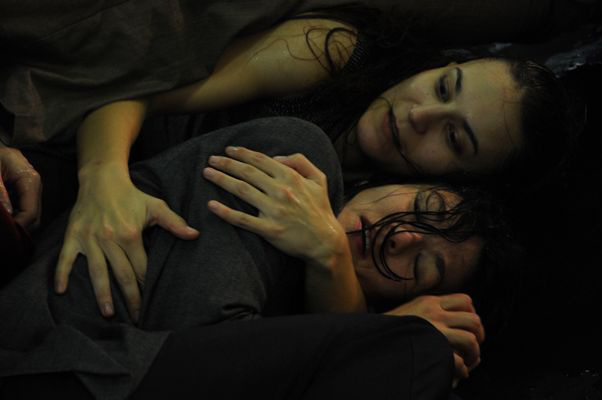 Wa(h)rEsGelogen
The performance consists of photos by the Czech photographer Jan Saudek; photos by the Canadian photographer Jeff Wall; and press photos. The music of Wa(h)rEsGelogen is composed by the Dutch cellist and composer Ernst Reijseger.
Andrea and Peter worked in residence in Korzo Theatre The Hague in October 2010. In November 2010 four dancers from Mu Terminal Budapest, including artistic leader Adam Fejes and dancer Manon Avermaete from Antwerp (Belgium) joined them. The Dutch Premiere will be at the CaDance Festival in The Hague on February 12 and 13, 2011.
Wa(h)rEsGelogen - Hungarian premiere - Fidelio Dance Evening
January 28, 29 8 pm - MU Theatre
Choreography: Andrea Boll, Kádár Péter
Performers: Andrea Boll, Fejes Ádám, Frigy Ádám, Hoffmann Adrienn, Kádár Péter, Manon Avermaete, Plóza Gabriella
Music: Ernst Reijseger
Further performances are booked on March 9, 2011 in CC de Werft in Geel, Belgium and March 10, 11, 12, 13 2011 in Melkweg Theatre in Amsterdam.