Disfunctional fashion and interactive theatre in one.
Our costume is our outermost layer of skin, a body-mask which is capable of constant change. All of Edit Szűcs's costumes cover and wrap up the body without hardly any needlework at all, emphasizing the defining role of fabric, or material, which as a kind of creative element arranges the shape, body, movement and choreography around itself, assuming center stage.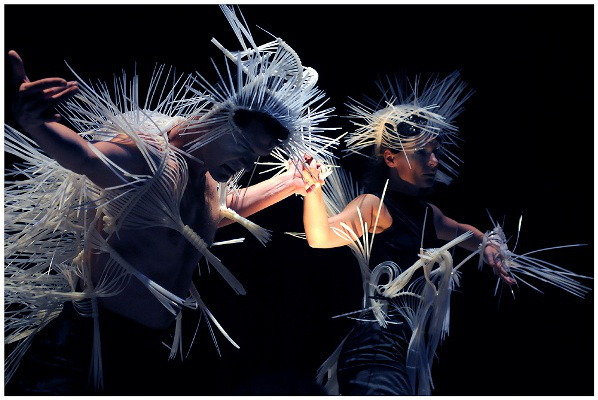 Por-hüvely
The works of costume-designer Edit Szűcs aren't merely present in the performances of the most acclaimed theatres in the countryside and the capital, but in the experimental, alternative world of movement theatre as well. Her first feature-length movement theatre performance was presented at the Mu Theatre entitled Testszövet (Skin Fabric) whilst her second show, Bőrhártya (Skin Membrane) was a great success here at the Trafó. The lates performance based on the texts of writer Virág Erdős.
There are a number of stage performances built around Szűcs's ideas, in which ideas generated by bodies living in a theatrical space defined by costumes and outfits, and the images and moods that come to life - supported (again) by Krisztián Gergye's intentionally grotesque choreography and György Árvai's darkly exciting imagery - create a uniquely odd world.
"However, the layers added to the basic situation - the stage imagery, dance, music and the text of the poems - burst open the boundaries of the fashion show and create a total art presentation on the catwalk. This unified fabric enmeshes, encloses and carries the viewers away...." (Andrea Rádai, www.revizoronline.hu)
Organic fossils
25 January, 8, 9.30 pm - Trafó - House of Contemporary Arts (Budapest, District 9, Liliom utca 41.)