An internal journal, a total schizophrenia, the creation of new characters within ourselves previously unknown to us.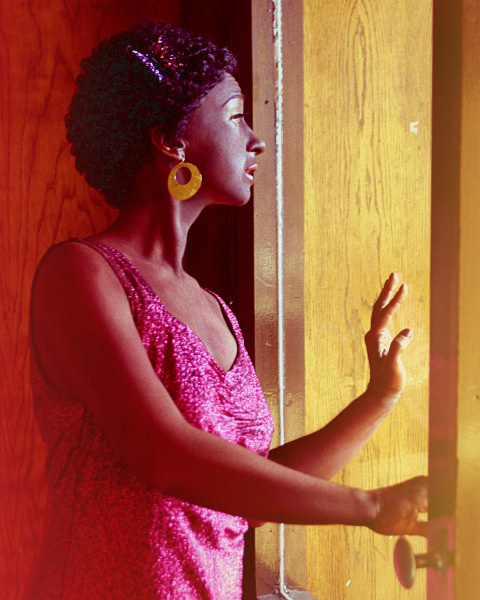 Syd
SYD features a fictitious celebrity, a black woman's life story, for ever merging reality and illusion. This performance is not an exercise in linear storytelling, and does not merely rely on the power of the word or the talent of the actor. From the perspective of dramaturgy, it is particularly important that we familiarize ourselves with the main protagonist not only through traditional narration or monologues, but, giving the performance a non-homogeneous texture, through visualizing and portraying her in extreme situations.
It's been announced that a concert featuring actress Annamária Láng and Sydonie Raawiya Koumba is to be held in MU Theatre, the African singer, however, fails to arrive due to last minute relapse of her malaria. Láng and the staff make several attempts throughout the evening to contact Syd on skype, but her daughter or her lover would show up instead. Láng cannot choose but to tell the story by herself: she talks about how they met in the African Savanna, recalls highlights of Syd's scandal surrounding career in the 70's, in America. She presents pictures, videos, extracts from TV-shows depicting Syd's life, quotes passages from her diary, performs her original songs in Hungarian. Although Syd currently lives in privacy and seclusion in Tanzania, Láng still idolizes her and sees the black singer as her master. At the end of the performance Syd logs onto Skype unexpectedly and advises Láng to find her own path. 
Songs for the concert are specifically written for the performance with the help of a composer, performed live at the show.
For the storytelling, tools from the PestiEsti performance will be used, including projection creating a unique visionary experience.  It is important that the use of these techniques should be radical in themselves, at once amalgamating music clips and fake documentary like recordings, talk-shows, photographs and ensuring that the quality of earlier recordings and the live projection of performance from a lifelike set on a micro-stage are equally high.  With the help of projections, notwithstanding the monodrama nature of the performance, a dialogue is created between SYD and characters in her life, who are also played by the lead actor in mask. A schizophrenic monodrama is presented.
The background material for the performance-idea comes from a mixture of artistic and other inspirational materials. Cindy Sherman, an American photographer, typically photographs herself in costume.  An exciting experiment, seeing how one can change, experiencing one's face, body and presence in different form. The production will attempt to transcribe Michel Gondry, French film and video clip director's visual world-view and composition technique into the language of theater and recreate it in the world of theater. Apart from the aesthetics of tabloid papers.Opening Night, a film by John Cassavetes in it's subject matter (on the actor and the backstage perspective and it's secrets) is closely related to the production.
It is an interesting experiment to combine 21st century technology, cinema and television in particular, with theater. To see how the projected virtual reality of live and pre-recorded clips can come into dialogue with the performance on stage.  How can a half-fictitious dialogue come about between a live person and her projected partner? How can we tell a story about the protagonist if its not directly deposited through monologues or classical theatrical techniques, through the interaction of characters on stage, moving the plot forward scene by scene?
The creators invite the audience to take part in a new type of virtual game, which begins long before the performance itself.  SYD will have her very own Hungarian website (with extensive documentation and photo albums), there will be interviews, her music on YouTube, and posters will advertise the show throughout the city.
SYD is therefore an internal journal, total schizophrenia, the creation within ourselves of new characters previously unknown to us. It consciously uses tools and techniques which brings about an amalgamation of genres and in which a dialogue can come about between theater, film and music.  Its subject matter covers issues that are particularly topical today, such as the celebrity culture, being exposed-vulnerable as a consequence of becoming famous, the merging of the celeb's private life and her life played out in the public eye, a loss of intimacy.  Furthermore, the game the audience is invited to, also explores what counts as newsworthy today, who can become a celebrity and whether its possible to create a mega-event out of a (pseudo) theater performance using the right media tools.
Syd is a co-production realized in collaboration between two production houses, MU Theatre and Trafó - House of Contemporary Arts.