A choreography inspired by the same impressions as the ones having influenced Pál Frenák in Skateboards.
It seems as if the usual themes of previous years - such as human relationships, sexuality, sexual identity - stepped back and that the pulsive intimate states of an individual and a group, the dynamic erosion and rebuilding of relationships are in the frontline. In Seven he attempts through the language of dance to grasp the "entre-deux" experience, well-known from post-colonial literature. This dual self-identity - separation from one's own culture and integration in a new society - is in the focal point, an interim state that cannot exist without the feeling of rootlessness which at the same time makes you free and depressed.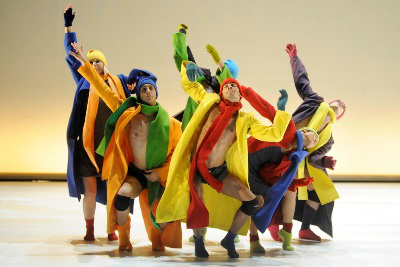 Seven
He deals with metamorphosis, transformation, the boundary between clear shapes and established identity. That interim state full of doubts in which things appear in their clear and evident nature only for seconds. As usual in Frenák's art, the theatrical space and the elastic spatial shapes give definite and understandable contours to this permanent movement and the explosive presence of the dancers.
15 February 7 pm - Palace of Arts (Művészetek Palotája), Festival Theatre (Budapest, District 9, Komor Marcell utca 1.)