The second edition of the UMZF Composition Competition was organized by the Budapest Music Center, the Palace of Arts Budapest, the Concerto Budapest, and the UMZE Chamber Ensemble with the support of Hungarofest Klassz Music Office. The aim of the competiton is to promote and support the composition of new Hungarian pieces.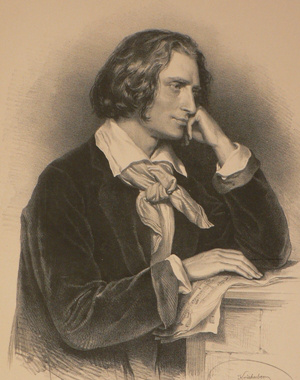 Franz Liszt
The competiton was open to all under-40 composers considering themselves as Hungarian. This year, commemorating the 200th anniversary of Franz Liszt's birth, the theme of the competition was his life or works. The compositions could be entered in two categories: works for large symphony orchestra or chamber ensemble. By the deadline  34 pieces were sent under pseudonyms.
Eight compositions by seven composers were performed in the final on 8 February 2011 at the Palace of Arts Budapest by the UMZE Chamber Ensemble (artistic director: Zoltán Rácz) and the Concerto Budapest (artistic director: András Keller). The jury of the final included András Batta (music historian, Rector of Liszt University of Music, Budapest), Zoltán Jeney (composer, Head of Department of Composition at the Liszt University of Music, Budapest), András Keller (violinist, conductor), Zoltán Rácz (percussionist, conductor, artistic director of UMZE Chamber Ensemble), and József Soproni (composer).
The results:
Chamber ensemble category:
1st prize: QuatreQuatours by Péter Tornyai
2nd prize: (Tec)tonic by Balázs Horváth
3rd prize: Circ(u)s by Marcell Dargay
4th prize: A flower - in the birthday bouquet for Franz Liszt by László Sándor
Large symphony category:
1st prize: Faust and his companions in the magic castle by Balázs Horváth
2nd prize: Piano Concerto in C for an Imaginary Pianist and Orchestra by Judit Varga
3rd prize: Nudes by Árpád Solti
4th prize: Nightmare Symphony by Ákos Zaránd