Zoltán Gyöngyössy and the MÁV Symphony Orchestra with Gergely Kesselyák will perform in the Palace of Arts on March 1.
The first time a piece of music is performed is always a very special occasion. This is when the sounds imagined by the composer and recorded on paper become a living being, when we find out if it finds its place and is accepted by the audience. Iván Madarász, born in 1949 and now a professor at the Budapest Academy of music, has experienced this awakening of his work many times. He has composed three operas, four musicals, many concertos (for flute, piano, cimbalom and tuba), oratorios, cantatas, choral works, songs and film scores. He has also release five recordings of his compositions. The soloist he has chosen to perform his Symphony No. 2 is Zoltán Gyöngyössy, not only a well known flute player, but also one of the best known performers of new music. Gergely Kesselyák, an equally well known conductor, begins his role as one of the orchestra's musical directors this season. He previously filled the same position in the opera of the Miskolc National Theatre. He also has conducted with the Hungarian State Opera and served as musical director of the Szeged Open-air Festival.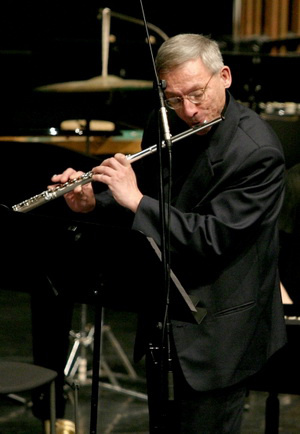 Gyöngyössy Zoltán
Like Beethoven, Gustav Mahler (1860-1911) composed nine symphonies, in which he extended the formal elements established by his more illustrious predecessor's to their extremes, both in terms of the length of the works and the instrumentation. Mahler's Symphony No. 5, written in 1902, did not make use of singers, but he did compose the first two movements of his five-movement work as a single conjoined element. The breadth of expression throughout the piece, which begins in the tone of a funeral march, transports the listener on a spectacular musical journey. Perhaps the highlight of the symphony is the Adagietto, a beautiful slow movement often performed in concert as a stand-alone piece.
1 March 2011, 7.30 pm - Palace of Arts (Művészetek Palotája), Béla Bartók National Concert Hall
Iván Madarász: Flute Concerto No. 2 - premier
Mahler: Symphony No. 5 in C-sharp minor
Conductor: Gergely Kesselyák