How can Coca-Cola and the hummingbird, known as a talisman bringing luck in love, come to symbolize a country's music? Simple, if the country is Haiti.
This is the home of the singer David Mettelus, whose nickname and artist's moniker Ti-Coca is the local name for the small bottle of Coca-Cola. Ti Coca formed the group Wanga-Nègès in 1976, which means hummingbird in the Creole language.
The small group has remained true to its principles for more than 30 years, presenting the music of Haiti on exclusively acoustic instruments (guitar, drums, accordion, graj and manuomba), and playing songs that chronicle the sweet and bitter stories of people's lives. The influence that Cuba had on the country's music was due to the many seasonal workers that Cuba needed for harvesting sugarcane in the early part of the 20th century who brought music back with them from one island to the other. It was these migrant workers that brought the bolero to Haiti, which was then mixed with Haitian music, merengue and voodoo rhythms.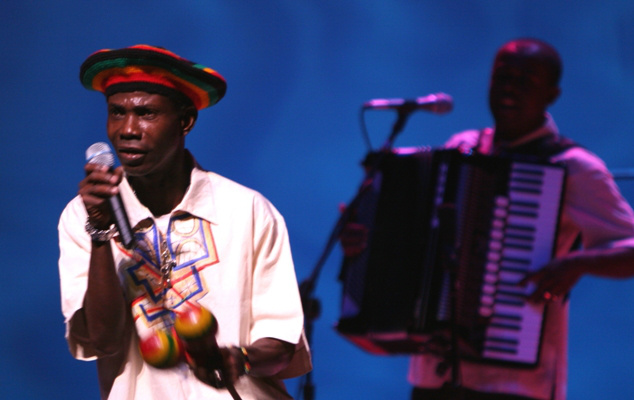 Ti-Coca
These folk music forms, local troubadour and Haitian compas melodies provided the inspiration for Ti Coca and Wanga-Nègès, whose members (Wilfrid Bolane, Mathieu Chertoute, Richard Hector, Allen Juste and David Mettelus) have entertained audiences worldwide for more than three decades, and who will provide a Hungarian audience with a taste of an unusual and little-known musical tradition.
28 February 2011, 8.00 pm - Palace of Arts (Művészetek Palotája), Festival Theatre