Hungarian pianists Jenő Jandó and Károly Mocsári will open the 3rd Spring Piano Festival in Belgrade on March 10.
The two artists have selected Franz Liszt pieces - Funerailles, Concerto Pathetique, Hungarian Rhapsody VIII, and the Rákóczi March - to match the programme of the ongoing Liszt Year.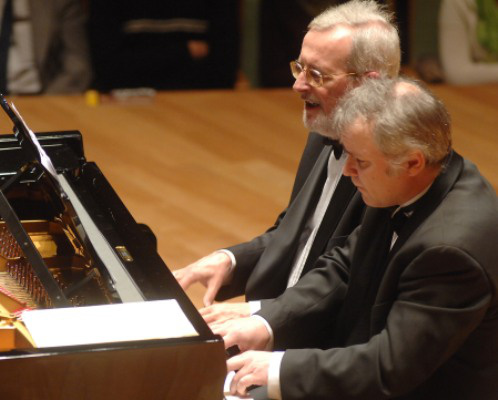 Jandó Jenő és Mocsári Károly
The Hungarian pianist, Jenő Jandó, studied piano first with his mother, then at the Liszt Academy with Katalin Nemes and Paul Kadosa, later going on to win many major international piano competitions, including the Cziffra and Ciani Piano Competitions. However, his professional career really began when he took third prize at the Beethoven Piano Competition at the age of 18. He was also the winner of the 1973 Hungarian Piano Concours and took first prize in the chamber music category at the Sydney International Piano Competition in 1977.
Those winning brought Jenő Jandó's name before audiences beyond Hungary. But he did not become a familiar figure to USA album buyers until after the founding of Naxos by the German-born, Hong Kong-based entrepreneur Klaus Heymann in the late 1980's. Jenő Jandó was one of the first artists to emerge from Naxos' efforts to record Eastern European artists on a larger scale than any organisation outside the former East bloc had previously done. A Hungarian contact sent a tape of Jandó's playing to the company, and he was picked for one of the new company's showcase products: a complete recording of Beethoven's 32 piano sonatas. Jandó followed those up with complete tours through Mozart's piano sonatas and concertos, Bach's entire Well-Tempered Clavier, Béla Bartók's piano concertos, and comparatively rarer Haydn keyboard sonatas. Jandó continued to explore the heart of the traditional repertory, delving into Schubert's sonatas and undertaking a mammoth survey of Béla Bartók's complete piano music.
Jenő Jandó has also performed chamber music, inclining toward Hungarian compositions, and he serves as accompanist to his wife, mezzo soprano Tamara Takács. He has recorded, for example, Schubert's 'Trout' Quintet and Beethoven's 'Ghost' and 'Archduke' piano trios. As an accompanist, he has worked with Takako Nishizaki in recordings of the Franck and Grieg violin sonatas, the complete Schubert sonatas, and the Mozart sonatas. His special style of accompaniment also shows itself in Zoltán Kodály's Sonata for Cello and Piano as well as in a more recent recording of Dohnányi cello sonatas, in partnership with Maria Kliegel. So far he has recorded about 66 albums, including music by Bach, Beethoven, Schumann, Haydn, Béla Bartók, and many other composers.
Károly Mocsári was born in Budapest in 1962 and has lived the last seventeen years in Paris. He is regarded by the international press as a first rate interpreter of the piano music of Bartók and Liszt. He graduated from György Nádor's class at the Franz Liszt Academy, before completing masterclasses with Jorge Bolet (Curtis Institute, Philadelphia) and Yvonne Lefébure (Paris.) His international career began in 1984 and he won prizes at a number of international music competitions (London, Barcelona, Athens, Montreal). In 1986, he was a prize winner at the Budapest International Liszt Competition. He also won a scholarship from the Cziffra Foundation. Since then, he has performed as a soloist with many orchestras: Manchester Orchestra, Philharmonia Orchestra, New Zealand Symphony Orchestra, Berlin Radio Orchestra, English Chamber Orchestra and the Budapest Festival Orchestra. He has given recitals in over thirty countries at many premiere venues. He has performed at the Bonn Beethoven Hall, the Wigmore Hall, the Royal Festival Hall, the Zagrab Lisinski concert hall, the Yokohama Kanagawa hall, the Mexico Opera, the Louvre Auditorium and other Paris theatres. He is a regular guest at European and other festivals. He has worked with such names as Yuri Bashmet, Jean Efflam Bavouzet, Sir Andrew Davis, David Grimal, Barbara Hendricks, Zoltán Kocsis, Ken-Ichiro Kobayashi, Miklós Perényi, Mstislav Rostropovich, Vladimir Spiakov, Tamás Vásáry, the Keller, Takács and Tokyo Quartets.
Croatian pianist Lovro Pogorelic will also play Liszt in his recital next Friday. The piano festival will be opened by Hungarian Ambassador to Serbia Oszkár Nikowitz.